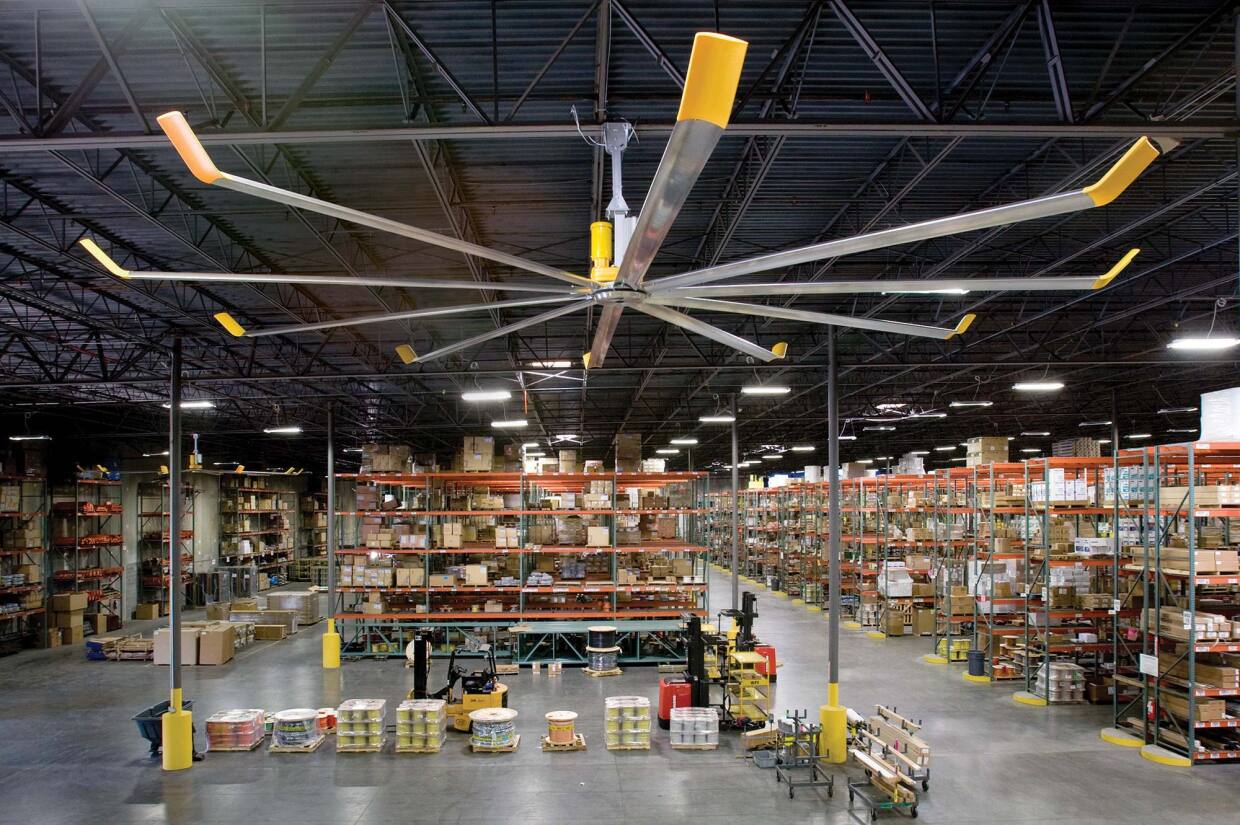 Wenger Electric in Columbiana, Ohio, has become an official member of Big Ass Fan's Certified Installer Program. This certification is a testament to our industry expertise, committed work ethic, excellent customer service, and precise attention to detail. We guarantee that our customers' Big Ass fans will be installed quickly, correctly, and safely according to the highest quality standards.
About Big Ass Fans
Big Ass Fans began in 1999 with the goal of creating safer, more comfortable, and more productive work environments in industrial facilities. Their high-volume, low-speed (HVLS) fans made that goal a reality and sparked a workplace revolution! HVLS fans and other innovative airflow products by Big Ass Fans can be found in thousands of establishments around the world, including:
Manufacturing, warehouse, and distribution facilities
Government facilities
Retail stores
Office spaces
Motor vehicle service/repair shops
Hospitality facilities
Gyms and fitness centers
Sports venues and event centers
Restaurants and bars
School and college campuses
Private hangars
Residential buildings
How HVLS Fans Work
HVLS overhead ceiling fans quietly move a lot of air to cool or warm spaces more efficiently. Big Ass Fans' products exceed ENERGY STAR® requirements, making you feel up to 10° cooler in the summer and saving up to 30% on energy bills in the winter. Indoor models integrate with smart-home controls and select models can even disinfect the air using UV-C technology! HVLS fans provide a year-round solution for residential, commercial, and industrial buildings alike.
Other Products by Big Ass Fans
Wenger Electric also installs the following products designed and engineered by Big Ass Fans:
Portable and wall-mounted directional fans
Cold Front evaporative coolers (swamp coolers)
NEW PRODUCT RELEASE: Clean Air System that Kills Airborne Pathogens
In response to the COVID-19 pandemic, Big Ass Fans engineers have designed and launched new air-moving technology with UV-C and ozone-free needlepoint bipolar ionization that disinfects the air to create safer, healthier conditions in your business facility over wise coverage areas. These air disinfection overhead and directional fans have been tested and proven to kill 99.9% of the COVID-19 SARS-CoV-2 virus within 10 minutes, along with other airborne viruses, bacteria, and volatile organic compounds (VOCs). Enjoy a range of convenient controls, available automation, and a custom solution for your space. As a factory-certified installer, Wenger Electric can also provide annual maintenance services to extend their warranty coverage. You can learn more about the newly released Big Ass Fans Clean Air System products on our Resources page.
NEW PRODUCT RELEASE: COOL-SPACE® Portable Evaporative Coolers

Summer heat is no joke, and Big Ass Fans has introduced a new product to help combat overheated public, commercial, and residential spaces. Their new line of portable evaporative coolers – Cold Front – is a fast-acting solution to extreme heat, delivering cooling comfort even in spaces that aren't outfitted with air conditioning units. Each Cold Front cooler is equipped with a powerful fan housed in a protective cage, and backed by cooling media. Water is first applied to the media and hot air is then pulled through, cooling the air via evaporation. The cooled air that is pumped out can help to lower overall air temperature by up to 33 degrees! Pairing this new cooling technology with Big Ass Fan's ceiling models is an easy way to bring comfortable temperatures to every corner of your space. Cold Front evaporative coolers are available in four graduated sizes and can be used everywhere from stadiums to personal workstations and patios. Cold Front coolers are already hard at work keeping employees cool at major manufacturing, warehouse, and distribution facilities across the nation. Treat your team or yourself to a more comfortable work environment this and every summer, with Big Ass Fans!
Contact Wenger Electric today to get a free estimate on the installation of Big Ass fans in your facility.